Skip to Content
We Keep Businesses Safe With Our Security Systems
Your business is an investment. It is far too easy for thieves to harm your business by stealing valuables. Precision Locksmithing provides commercial security systems to Coquitlam, BC company owners who want to ensure the safety of their employees, customers, and property. Our state-of-the-art alarm systems provide early warning indicators. Our deadbolts are impervious to picking, cracking, and blunt force. We're committed to helping our customers discover solutions to their security problems and prevent business-altering theft and profitability issues. Contact us today to get started with the installation of a new security system.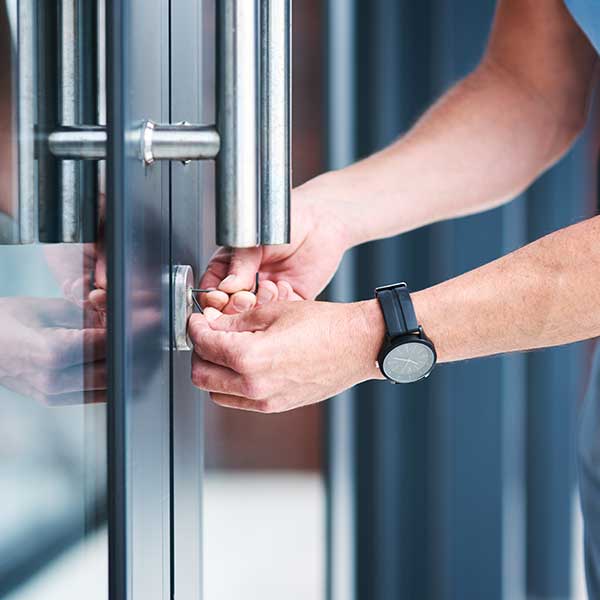 We Design Keys That Thieves Cannot Easily Copy
Believe it or not, most corporate and business theft occurs not when thieves pick a lock or break a window, but when they copy a key. Numerous individuals and companies have access to your keys, including cleaning crews, contractors, auto repair shops, previous owners, and prior employees. Many businesses use conventional lock-and-key systems, which individuals can easily copy at a local hardware store or locksmith. Our keys and deadbolts are different. We use Mul-T-Lock high-security locks with unique keys, which hardware stores cannot copy. Even if a disgruntled employee or less-than-honest contractor wants to duplicate a key, they won't be able to do so. Our unique system is the most significant advantage of working with our locksmith company.
Protect Your Electronic Equipment With Our Systems
There are many compelling reasons for business owners to invest in a more robust security system – the going rate for black market computers. Every business uses a network of computers and cables to process payments, track inventory, and store essential data. Your company's computer system is a thief's number-one target not only because of the value of the hardware itself but because of the information found on the machines. We can provide systems that make it borderline impossible for burglars to steal your computers. The key to effective security systems is making the crime so time-consuming that it's not worth it for criminals to attempt to take your belongings. Our systems do so by creating complicated situations for would-be thieves. We can anchor computer cages to the ground and firmly secure cables. When we finish installing new alarms, deadbolts, and matching keys, you'll experience a newfound sense of security.
Precision Locksmithing Teaches Better Security
We don't merely install alarm systems and new deadbolts. Precision Locksmithing also teaches businesses about their current setup and how to safeguard against common vulnerabilities. For instance, our specialists can reinforce traditional storefront windows, which do not often provide adequate protection against illegal entry. One of the reasons for this is their cylindrical design, which is prone to three types of attack, making it easy and quick for burglars to break in. We can install full-length plates called astragals and window bars to protect the storefront window without causing your business to seem uninviting or dangerous to visitors.
Contact Us Today for Expert Locksmith Services!